Leadership Message
AGENCY MINDED, BUSINESS ORIENTED
I am thrilled to introduce you to Notavi Creative!
We are a  marketing and communications group that brings together a seamless network of experience for clients—one in which any marketing challenge will be met with strategy and precision from concept through production in areas of strategy, content development, design and production.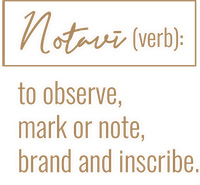 And that's where the name comes from…
Clients will quickly find that working with us feels like having us on board as an extension of their team. My area of expertise is in evaluating and helping clients determine their marketing needs, then identifying projects and plans that can successfully transform or launch marketing and communications efforts.
When coupled with a creative team that can bring these projects to life quickly and strategically, through content creation and design, results can be dramatic and enduring.
I look forward to learning more about your organization, discussing challenges, and forging creative and powerful tactics to drive results.
Warmly,

Michelle Burgess, M.A., ADPR
Owner | Communications Director
E: Michelle@notavicreative.com
O: 216-925-0102
"Clients find working with us feels like we're truly an ongoing extension of their team."
Overseeing creative and design projects from inception to fruition
About Us
Branding storydoers versus storytellers.
We don't just tell you what needs to be done for your branding, we have the talented team and skillset to get it done bringing any marketing idea to fruition.
Notavi Creative is a collaborative brand development group that is rooted in strategy and has 15+ years of branding experience and the foresight to identify and deploy best creative processes, ideas and action plans.
We're super sleuths that take time to understand what makes an organization and its people tick; learn where challenges exist before we offer suggestions on how to address them; recognize the unique standards and practices of each industry; determine what makes you stand out; and help empower teams to create resources that can be used internally.
Once we identify the need, the plan and the deliverables, our team brings these ideas to life through exceptional, leading-edge graphic and web design and development, copywriting, public relations and more.
Our process, and how we engage with clients, has earned stars and stripes through the years. It includes discovery, strategy creation, consensus building, and managing the design and production of branding elements that encompass the aspirational essence of your organization—what it strives to be.
COMPREHENSIVE SERVICE AREAS IN MARKETING & COMMUNICATIONS.
Education
Case Western Reserve University
Cleveland State University
IoT Collaborative
Lorain City Schools
Lorain County JVS
Summit Education Initiative
The University of Akron
Ursuline College
Women in Tech Initiative
Nonprofit / Civic
Blessing House
The Chuck and Char Fowler Family Foundation
Community Foundation of Lorain County
Community Foundation of Mahoning Valley
ConxusNEO
Cuyahoga County Board of Health
Early Ages Healthy Stages
Fund for Our Economic Future
Healthy Community Partners of Mahoning Valley
The Howley Foundation
The Institute for Public Policy and Economic Development
Millstone Fund
Koinonia Homes
Moses Taylor Foundation
Neighborhood Alliance
Nestlé (community engagement)
The Nord Center
Northeast Regional Cancer Institute
Ohio Early Childhood Health Network
Second Harvest Food Bank of North Central Ohio
Saint Luke's Foundation
Strengthening Stark
Women's Fund
Retail and B-to-B
Absorb-Core
Amcor
GSI Executive Search
Moore Wild Birds
MTD
Nelson Tree Service, LLC
Noramco
Financial Services
Boyd Watterson
Todd Associates
V Financial Partners
White Blaze/Stratos Wealth Partners
Technology
IoT Collaborative
The Lanterman Group
Siemens Partnership/Case Western Reserve University
KEEPING YOU POSTED
News+Tips